Optimization and Construction of the Training Base
"Empowering with technology, promoting teaching innovation, and refining textbook research and development" is the tenet that SinaLingua adheres to in constructing and optimizing the school-enterprise cooperation training base.   Promote the "curriculum revolution" vigorously to form a new mechanism for the development of practical teaching resources of school-enterprise cooperation, co-construction and sharing, and give  "new kinetic energy" to the high ground for talent training of the integration of production, education and research  and the form of collaborative innovation through the construction of modern training base and public virtual simulation training base.
Content
Assist in the Construction of Sino-German Cooperation majors:course ouverlay(4+0 or 3+X);
Learn from the German vocational education system and import German professional courses;
Land Project、Design Course、Teacher Training、Pre-exam Training etc;
Build Certificate Standard and China Test Center;
Organize overseas training and practice in leading companies for outstanding teachers and students;
Serve Profession:mechanotronics,new enegry vehicle,health management, nursing,architecture and so on.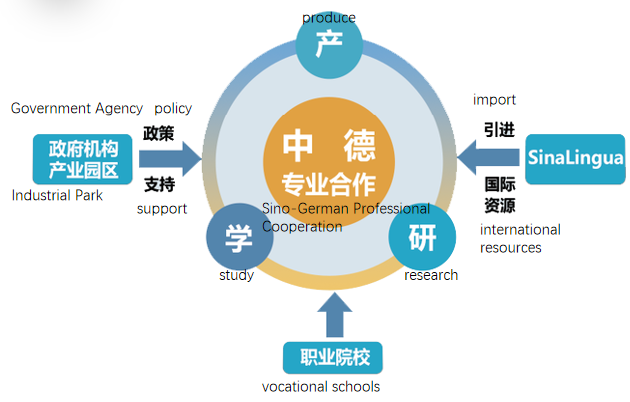 The SinaLingua training base will be based on the teaching conditions of virtual simulation training, focus on the construction of comprehensive, inter-professional and practical teaching resources, take the construction of teaching team as an important guarantee, and build a co-construction and sharing mechanism as a means to build a comprehensive and shared training base with advanced technology, abundant resources and wide application through resource integration, system design and step-by-step implementation.